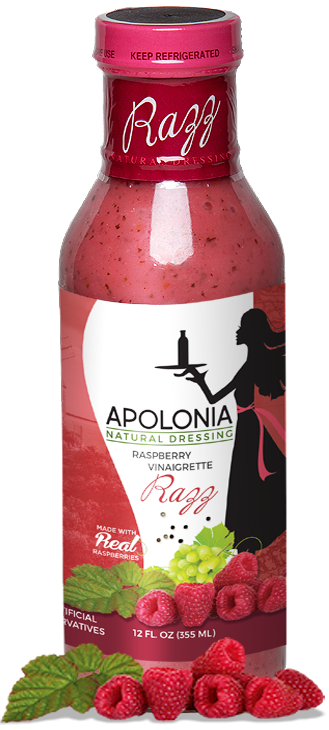 Razz is a perfect blend of sweet and savory. Crafted from real red raspberries and pure honey, its enticing taste will keep you craving for more. Razz is ideal on salads with fresh fruits, and an exceptional marinade for domestic meats and wild game.
Ingredients: Canola Oil, Water, Raspberry Puree, Red Wine Vinegar, Black Cherry Concentrated Fruit Juice. Honey, Parsley, Sea Salt, Pepper, Xanthan Gum.
Product Attributes: All-Natural. Gluten Free. Cholesterol Free. Low Sodium. Nut Free. HFCS Free. Egg Free. Lactose Free. Trans Fat Free. Vegetarian.
NUTRITION FACTS
% Daily Value*
Per Serving Size: 2 tbsp. (28 grams)
Calories 100
Total Fat 10g 15%
Saturated Fat 0.5g 3%
Trans Fat 0g
Cholesterol 0mg 0%
Sodium 85mg 4%
Total Carbohydrate 4g 1%
Dietary Fiber 0g
Sugars 3g
Protein 0g
______________
Vitamin C 6%