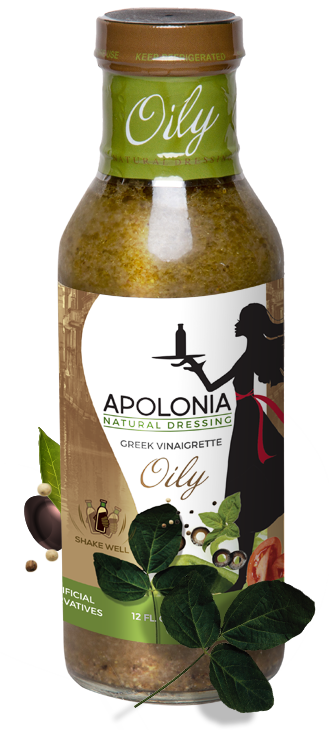 Oily is a classic Greek-style dressing made with oil, vinegar and savory seasonings. This is the dressing reminiscent of the salty air and crystal blue skies of the Mediterranean. It is as exceptional as it is traditional.
Ingredients: Canola Oil. Red Wine Vinegar. Water. Spanish Onion. Green Pepper. Sea Salt. Sugar. Garlic. Parsley. Oregano.
Product Attributes: All-Natural. Gluten Free. Vegan. Nut Free. HFCS Free. Egg Free. Lactose Free. Trans Fat Free.
NUTRITION FACTS
% Daily Value*
Per Serving Size: 2 tbsp. (28 grams)
Calories 90
Total Fat 10g 15%
Saturated Fat 0.5g 3%
Trans Fat 0g
Cholesterol 0mg 0%
Sodium 240mg 10%
Total Carbohydrate 1g 0%
Dietary Fiber 0g
Sugars 1g
Protein 0g
______________
Iron 15%
Vitamin C 4%